Emma Bunton




Background information
Birth name
Emma Lee Bunton
Also known as
Baby Spice, Baby, Kung Fu Candy
Born
21 January 1976 (age 45)


Barnet, Hertfordshire, England

Genre
Pop, adult contemporary
Occupations
Singer, songwriter, actress
Instrument
Vocals
Years active
1992–present
Labels
Virgin Records, 19/Universal
Associated acts
Spice Girls
Website
Official Website
Emma Bunton (born 21 January 1976) is an English pop singer, songwriter, and occasional actress.
Biography
[
]
1970s
[
]
Early Life
[
]
Emma Lee Bunton was born on January 21, 1976, in Barnet in North London, Hertfordshire, England. Her father, Trevor, a milkman, and mother, Pauline, a karate instructor.
1980s
[
]
Passion
[
]
At the age of 11, Emma's parents split, but by time already busy with extracurricular activities such as modeling and doing commercials so the situation didn't prove too drastic her.
"Everyone says, 'It was the worst time of my life.' But it wasn't really."
She would usually help and accompany her father to go do rounds with him as he delivered milk to houses. She then lived with her brother Paul James and her mother, whom called her a "hero." Her mother had trained at her Gojukai Karate club and had trained her to a "very high standard." She also had a half brother named Robert
.
Emma's time spent at St. Theresa's Roman Catholic primary in Finchley, yet Emma's passion for her hobbies full-scale as she spent her formal theater years at Sylvia Young Theatre School in Marylebone. At the age of 14, Emma had to drop out of the because her parents couldn't to pay for her fees.
"...the shock to system was scary. I so much..."
Nevertheless, weeks after that the school called back and offered her a scholarship.
Already a natural in front of the camera, she left at 16 and began studying drama on a two-year course at Barnet Technical College.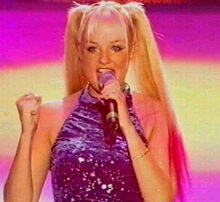 1990s
[
]
Pre-Spice Career
[
]
At the age of only three, she won a beauty contest to appear as the face of Mothercare, and started to model for them.
She did several television commercials which included Toothpaste and Halifax, which had a wedding cake made up of and she the on top of the cake. She also appeared in a Top Chat in a photo-story in which she was a karate kid who had a on her teacher.
Before going on to become the Spice Girls, Emma Bunton had done auditions for minor roles in British soap dramas and made brief appearances in them. 1993 she appeared in the ITV1 police series The Bill and also auditioned (although unsuccessfully) for the role of Bianca (played by Patsy Palmer) in the BBC soap EastEnders; she had previously appeared briefly in the soap in 1992, as a mugger who attacked the character Jules Tavernier, played by Tommy Eytle.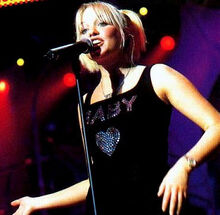 Spice Girls
[
]
Emma Bunton joined the Spice Girls (then called Touch) replacing Michelle Stephenson. The Spice Girls went on to become one of the most successful girl bands in the world from sales of their first album Spice, not only that but their first single Wannabe propelled them into the spotlight. They later on to release two more albums, Spiceworld and Forever, the going their own ways to concentrate on solo work.
Going Solo
[
]
She was featured on Tin Tin What I Am in 1999, which peaked at number two on the UK charts.
Relationships
[
]
Bunton has been linked with such stars as actor Nigel Harman, pop singer Justin Timberlake, and 911 lead singer Lee Brennan.
2000s
[
]
Solo Music Career
[
]
Her debut solo album A Girl Like Me brought the UK number-one What Took You So Long? as well as top five hits Take My Breath Away and the top 20 hit We're Gonna Sleep Tonight. The album sold 125,000 copies in the UK. Disappointing sales led to Bunton's leaving Virgin in 2002.
Bunton's second album Free Me was in 2003 through 19 Entertainment/Universal Records. It was successful and had four singles, Free Me, Maybe, I'll Be There and Crickets Sing For Anamaria.
In 2006, she released her album Life In Mono, as well as two singles from the album, Downtown and All I Need To Know.
Return of the Spice Girls
[
]
On 28 June 2007, Bunton said she would reunite with the Spice Girls for a world tour and Greatest Hits collection.
Love
[
]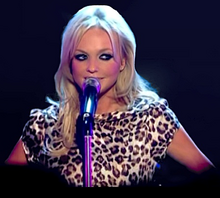 Her partner of ten years is former Damage and current CherryBlackStone lead singer Jade Jones, with whom she currently lives in a house in Hertfordshire. In October, 2006, there were rumours that the couple were engaged, with plans to marry in March 2007. This rumour was denied several days later. Bunton has stated multiple times that she does not need a wedding to justify her relationship with Jones.
"We've been rumoured to be engaged about 20 times, but we don't need a wedding to justify our relationship. But if we ever do get married, I couldn't run off and do it in secret - my family would be so upset."
After being diagnosed with endometriosis, a condition which can reduce fertility, Bunton and Jones announced in January 2007 that they were expecting their first child together.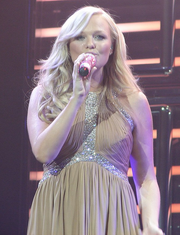 On 10 August 2007, Bunton gave birth to a 7-lb. 15-oz. baby boy named Beau Lee Jones. In November 2010, the Emma announced that they are expecting a second child.
On her 35th birthday, 21 January 2011, Jade Jones gave Emma an engagement ring. She tweeted that it was the "best birthday" the next day (Saturday) and announced the engagement on Sunday.
Jade and Emma were married on July 13, 2021.
Unreleased Songs
[
]
In 2009, several of Bunton's unreleased songs were published on the internet, including demos and discarded tracks from studio albums. "To Have and To Have To Let Go", "That's Why It Hurts", "Crazy", "Crazy Beautiful", "In Another Life", "Sometime", "Ladylike", and "Rhapsody".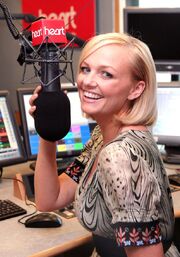 2010s
[
]
Branching Out
[
]
Emma Bunton progressed into other entertainment such as becoming a DJ on a radio show, as well as being a judge on Dancing On Ice. It was also revealed that she gets outfits from Victoria Beckham's fashion lines, some of which have been worn on her appearance as judge on Dancing On Ice. She claimed that she was interested in making her own fashion line too.
2012 Brief Spice Girls Reunion
[
]
In 2012, The Spice Girls reunited as a quintet one last time for the closings ceremonies for the 2012 Olympic Games. This was the last Spice Girls concert to feature Victoria Beckham.
Spice Girls 20th Anniversary
[
]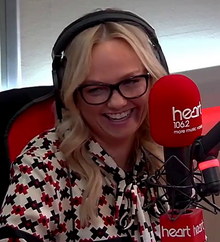 In 2016, Mel B, Emma Bunton, and Geri Halliwell reunited as The Spice Girls for the 20th anniversary of "Wannabe". A new album and tour are expected in 2017. Victoria Beckham and Mel C opted to not take part in the reunion to focus on their own careers. Geri gave birth in early 2017, making any kind of formal reunion at this time unlikely.
Emma, however, I have not let the slow her down. She co-owns "Kit and Kin UK"; and environmentally friendly line of products for babies and their mommies. The line is proving to be both popular and successful, receiving praise and winning several awards. Emma continues to work on laptop morning breakfast radio show in London. In the summer of 2017, she joined as a "architect" on the smash hit TV show, "Boy Band"; and American TV show where the newest boy band is being put together.
Spice World 2019 and My Happy Place

[

]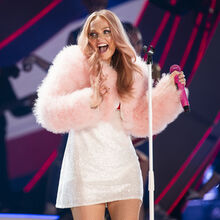 In 2019, the Spice Girls announced their second reunion tour, Spice World 2019, and all of the girls except Victoria took part. Also in 2019, Emma released her long-awaited fourth studio album, called My Happy Place, with the lead single being titled "Baby Please Don't Stop". The album consisted of a few original songs, along with some covers of Emma's favourite songs.
In November 2019, Bunton released a Christmas single, "Coming Home For Christmas" that also included a cover of Santa Baby. On 6 December 2019, Bunton performed her first solo show in over a decade at the Royal Albert Hall in London. The concert was a special one-off Christmas show that featured Bunton performing well known Christmas covers as well as duets onstage with Will Young, Matt Goss and her fiancé Jade Jones. The inclusive theater company, Chickenshed, of which Bunton has been a patron for many years, also joined her onstage for a rendition of the Spice Girls song Mama.
Gallery
[
]
Go to the gallery of Emma Bunton.
Trivia
[
]
Born in 1976, Emma is the youngest member of the Spice Girls.
She was the only Spice Girl to be a mother to sons.

Mel B has three daughters; Phoenix, Angel, and Madison.
Victoria's forth child is a girl, Harper Seven Beckham. Her other children are boys.
Geri has a daughter, Bluebell Madonna. Her second child is a boy.
Melanie C has a daughter, Scarlet Starr.
Memorable Quotes
[
]
"Being in this band is like having four older sisters. They all look after me and I couldn't dream of leaving them."
"Be sweet, be good, and honest always."
"Be yourself, take control of your life."
"I got a bit homesick, so I went and had a cry on Geri's shoulder. That linked us and it's been the same with all the other girls." - Emma's first night with the Spice Girls
External Links
[
]
Spice Girls GEM - Spice Girls GEM
Emma Bunton on MySpace
Emma Bunton on Facebook
The TV section of Yahoo! on Emma Bunton's engagement.
Emma Bunton on Twitter
Emma Bunton on Instagram