Geri Halliwell




Background information
Birth name
Geraldine Estelle Halliwell
Also known as
Ginger Spice, Ginger, Trixie Firecracker, Geri Horner
Born
6 August 1972 (age 48)


Watford, Hertfordshire, England, United Kingdom

Genre
Pop, dance-pop, pop rock
Occupations
Singer, songwriter, actress, author, philanthropist
Instrument
Vocals
Years active
1994–present
Labels
Virgin (1996–1998)
EMI (1999–2003)


Innocent

(2004–2005)
Associated acts
Spice Girls
Website
Official Website
Geri Halliwell (born 6 August 1972) is an English pop singer, songwriter, television personality, writer, and actress.
Biography
[
]
1970s
[
]
Early Life
[
]
Geri was born at Watford General Hospital, Watford, Hertfordshire England, UK to Laurence Francis Halliwell (1922–1993), who was of English, Irish/Swedish descent, and his wife Ana María (née Hidalgo), who was of Spanish descent from Huesca, Spain. For a brief time, her mother wanted to bring her up as a Jehovah's Witness.
1980s
[
]
Education
[
]
Halliwell took her A-Levels at Camden School for Girls, obtaining an A-level in English at A grade standard, having taken her GCSEs at Watford Girls Grammar School.
Pre-Spice Career
[
]
Before starting her music career, Geri had worked as a nightclub dancer in Mallorca and as a presenter on the Turkish version of Let's Make a Deal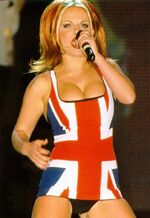 1990s
[
]
Spice Girls
[
]
Halliwell first found fame as one of the five members of the girl group the Spice Girls, and was dubbed Ginger Spice by Top of the Pops magazine in 1996 because of her flaming red hair and sassy yet assertive attitude. Geri became renowned for wearing outrageous stage costumes and often garnered extensive publicity. The group sold over 65 million records and are the best selling girl group of all time.
Geri's personality and Leadership was similar to that of John Lennon's during his early Beatle days.
On 30 May 1998, Geri left the Spice Girls due to depression and differences between the group. The first official confirmation was an announcement to the media by her solicitor on 31 May. Her action aroused controversy, her former group being due to embark on a North American tour, which they eventually completed without her. The statement passed through her solicitor, Julian Turton, and the spokesman for the remaining four members, Alan Edwards:
"This is a message to the fans, sadly I would like to confirm I have left the Spice Girls, this is because of differences between us. I am sure that the group will continue to be successful, and I wish them all the best. I have no immediate plans and I wish to apologise to all the fans and to thank them and everyone who's been there.
Lots of love Geri. PS: I will be back"
Although she had already left the group, the Spice Girls released Viva Forever, the final music video to feature Halliwell's likeness. After she left, the other girls co-wrote a few songs about her which appeared on their album, Forever: Goodbye and Let Love Lead The Way.
Politics
[
]
In the run-up to the 1997 UK General Election, Halliwell declared:
"I saw a lot of what Mrs Thatcher did. She was definitely the original Spice Girl rising from the greengrocer's daughter to Prime Minister."
She claimed that her background was deeply-rooted in support for the Conservative Party and that Thatcher was the pioneer of Girl Power and the spiritual sixth member of the Spice Girls. She claimed in 1996 that Tony Blair was "not a safe pair of hands for the economy".
Schizophonic
[
]
Shortly after leaving the Spice Girls, Halliwell appeared in a 90 minute documentary Geri for the British television channel Channel 4 by Molly Dineen. There also had seen a change in Halliwell appeareances, as seen in the change of hair colour from ginger to blonde.
She released her first album since the split from the Spice Girls, Schizophonic, which was a success with three UK number one singles.
UNFPA
[
]
In 1999, after having left the Spice Girls, Halliwell became a representative for the United Nations Population Fund (UNFPA). As a goodwill ambassador, Halliwell toured the Philippines on a fact-finding trip. She visited with staff and clients of family planning clinics, women's groups in slum areas, and college students.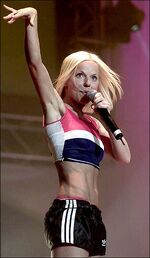 2000s
[
]
Scream If You Wanna Go Faster
[
]
In 2001 Halliwell followed up with her second album, Scream If You Wanna Go Faster. It also included her cover version of The Weather Girls' 1983 hit, It's Raning Men. The song has been added to the album at the last minute, and another song "Feels Like Sex" had already been slated as the lead single. The singles that followed, Scream If You Wanna Go Faster and Calling, reached, respectively, number eight and number seven in the United Kingdom. Scream If You Wanna Go Faster was not released in the United States.
Politics
[
]
By the 2001 General Election Halliwell had switched her support to Tony Blair and the Labour Party, making a cameo appearance in one of their party election broadcasts.
Branching Out
[
]
In 2002, Geri was featured alongside Pete Waterman and Louis Walsh as a judge on the television series Popstars: The rivals which created Girls Aloud. The following year she released her second autobiography, Just for the Record, detailing her rise to fame and her turbulent celebrity lifestyle. She has also released two Yoga DVDs with her yoga teacher Katy Appleton, Geri Yoga and Geri Body Yoga. In the US, Halliwell has also appeared as a judge on the reality programme All American Girl and as a guest reporter on celebrity-based series Extra. She has also made appearances in the television series Sex and the City and in the 2004 film Fat Slags, based on characters from Viz Magazine. In 2004, Halliwell appeared on channel Five as one of the hosts of the Party in the Park event for The Prince's Trust, the presenter and main performer of the Tickled Pink Girls' night in Live! event and an appearance in a documentary There's Something About Geri.
Passion
[
]
In late 2004, Geri again made a return to music with the single Ride It, which reached number four in the United Kingdom and number one on the dance charts. However several months passed with no material surfacing due to Geri being unhappy with the setlist of her album Passion and released another single Desire, which both proved to be unsuccessful. Halliwell's recording contract with EMI was subsequently not renewed, and in recent interviews Halliwell has stated that she is not interested in recording another album at the moment and was content with writing children's books and being a mother.
After her album Passion was a failure, Halliwell fired her managers, the married team Paul and Katie Conroy in October 2005, and went to Los Angeles to work on unnamed projects. Soon after, she was photographed by the paparazzi, having put on weight and looking exhausted. The tabloids reported that Halliwell was pregnant, which was subsequently confirmed. Sacha Gervasi is reported to be the child's father, but Halliwell has never publicly confirmed that. On 7 March 2006, Hello! magazine published an interview with Geri:
"It is tacky to kiss and tell, I would never deprive a child of the right to know its father."
Bluebell
[
]
On 14 May 2006, Halliwell gave birth to her daughter, Bluebell Madonna, by caesarean section at London's Portland Hospital with her sister by her side. Explaining her name choice, she said:
"What really clinched it for me was my mother telling me that the bluebell is increasingly rare – so it's a precious flower, which seems just right for my daughter."
Her daughter's middle name came from two of Halliwell's heroines, the Virgin Madonna and pop singer Madonna. During her pregnancy Halliwell studied Kabbalah. On 23 April 2007, all of The Spice Girls except Melanie Brown attended the christening of Geri's daughter, with Victoria Beckham, Emma Bunton and George Michael's partner Kenny Goss serving as godparents.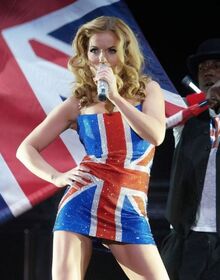 Return of the Spice Girls
[
]
In 2007 Geri Halliwell returned to The Spice Girls for their tour "The Return of the Spice Girls". This would be the last time that The Spice Girls would tour as a quintet. This was the final tour to feature Victoria Beckham and Mel C.
On the Spice Girls reunion tour of 2007–08, Geri met dancer Ivan "Flipz" Velez. They dated for six months before breaking up in November 2008. According to the Sun, she became engaged to Italian multimillionaire Fabrizio Politi in January 2009 after only a month together. However, the couple broke up in March 2009. She has been dating aristocrat Henry Beckwith since March 2009.
Ugenia Lavender
[
]
On 12 April 2007, it was announced that Halliwell had signed a six-book deal with Macmillan Children's Books. The books follow the adventures of nine-year-old Ugenia, a character based on Halliwell, alongside her friends Bronte, Rudy and Trevor.
She went on to do more TV appearances as well as starring in film Crank: High Voltage.
Geri temporarily gave up singing and continues to write books.
2010s
[
]
New Album
[
]
In March 2010, the vocal coach and singer Carrie Grant announced on ITV1's The Alan Titchmarsh Show that Halliwell would be making a return to music. The following month Halliwell announced through her official website that she was back in the studio and recording. Her fourth album was released as a greatest hits album.
The X-Factor
[
]
Main Article: The X-Factor
It was revealed in May 2010 that Geri would be the replacement for Danii Minogue instead of Melanie Brown.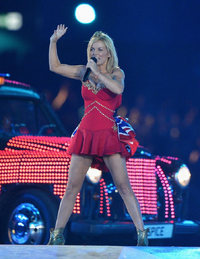 2012 Brief Spice Girls Reunion
[
]
In 2012 The Spice Girls performed as a quintet one last time for the closing ceremonies for the 2012 Olympic Games. This would be the last performance to feature Victoria Beckham and Mel C.
Spice Girls 20th Anniversary
[
]
In 2016 Mel B, Emma Bunton, and Geri Halliwell reunited as The Spice Girls for the 20th anniversary of "Wannabe". A new album and tour are expected in 2017. Victoria Beckham and Mel C opted to not be part of the reunion to focus on their own careers.
Gallery
[
]
Go to the gallery of Geri Halliwell.
Memorable Quotes
[
]
"Mel B and I usually say what goes. She is the Mummy Spice and I'm the Daddy Spice."
External Links
[
]
Spice Girls GEM - Spice Girls GEM
Geri Halliwell on Facebook
Geri Halliwell on Twitter
Geri Halliwell on Instagram
Geri Halliwell on Buzzcent.com