Melanie Brown




Melanie B in 2020.

Background information
Birth name
Melanie Janine Brown
Also known as
Melanie B, Mel B, Melanie Gulzar, Melanie G, Mel G, Scary Spice, Scary, Blazin' Bad Zula
Born
29 May 1975 (age 46)


Leeds, England

Genre
Pop, R&B, dance pop, hip hop
Instrument
Vocals
Years active
1994–present
Labels
Virgin, Amber Café
Associated acts
Spice Girls, Missy Elliott
Website
Official Website
Melanie Brown (born 29 May 1975) is an English pop singer-songwriter, actress, author and television presenter.
Biography
[
]
1970s
[
]
Early Life
[
]
Melanie Brown was born in Leeds, England, where she also grew up. She is the biracial daughter of a white English mother, Andrea, and black Nevisian father, Martin. In 1996 Brown was dubbed the Scary Spice, along with Melanie Chisholm, Geri Halliwell, Emma Bunton, and Victoria Adams, in the super group Spice Girls. Following her rise to fame, Brown had a long relationship with Icelander Fjolnir Thorgeirsson, Buckinghamshire, on later that year. The custody battle for her daughter Phoenix Chi, was born in Westminster, London, on 19 February 1999, this her the first Spice Girl to become a mother. Marital problems , including auga short elation to fame as a member of the Spice Girls with the release of Wannabe. The debut album, Spice, shot to one all over the globe ship with Australian singer Peter Andre in 1996. ean of Nevis. She has a younger sister named Danielle who is an actress.
Changing Jobs
[
]
Her first job was as a telemarketer for a newspaper, this was before going into the the business. She then progressed oce troupe for a music group.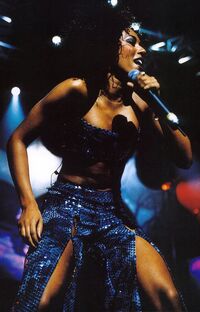 Spice Girls
[
]
Main Article: Touch
Melanie B responded to an advertisement in The Stage newspaper asking for female applicants that are "street smart, extrovert, ambitious and able to sing and dance."
Main Article: Spice Girls
Mel B 
[
]
While on the Tour, Brown a romantic relationship with Dutch dancer Jimmy Gulzar. They married in Little Mhter was highly publicised; Brown to number 13 1998; Mel B con custody, had to pay a large alimony settlement of £1.25m to her ex-husband.
2000s
[
]
Going Solo
[
]
In 2002, she released her first autobiography named Catch A Fire. She also had a serious but short relationship with actor Max Beesly but broke up in 2002.
Amber Café
[
]
At the height of the Spice Girls' success, Brown was invited to work with Missy Elliott on the single I Want You Back, a single that went st changed her stage name to 'Melanie G'. Their only child together, allegations of abusive and inattentive behaviour by Gulzar, and the marriage collapsed by the end of 1999. In 2000, Brown filed for divorce, which was finalized r one in the UK Singles Chart. Then she released Word Up, which didn't get as much success than the first single, which she went back to working on more solo materials and back with the Spice Girls.
In April 2004, Melanie Brown was approached to take part in the musical Rent. She played the role of Mimi Marquez and achongs received positive feedback, Brown decided to release them a year later through an independent label, Amber Café. She realeases Claire, making appearances on television shows, and filming her own documentary, Voodoo Princess on Channel 4.
Realationship with Eddie Murphy
[
]
In 2013, Melanie Brown moved to Los Angeles, California with her daughter Phoenix stating that she planned to live there permanently. In 2006, Brown became the subject of many tabloid stories, on the basis of her relationship with Hollywood actor Eddie Murphy. Unleased her second album L.A. State Of Mind and only one single was released from the album, Today. Both single and album sales were low, so both parties decided to amicably part ways.
Branching out
[
]
Despite not gaining as much success in the second single and album, Melanie B went into the entertainment sector appearing on television series such confirmed stories quickly came that the pair had tattoos of each other's names, were planning a wedding, and had introduced each other to their respective families. On October 16, 2006, AOL claimed that Brown was in fact having a baby by Murphy. Melanie B was quoted as saying:
"We're in love and get on really well. All the children have met and get on too - it's like a great big happy family. I can't wait to spend Christmas with him and I can't wait to have this baby."
In early December 2006, news came that Brown and Murphy were no longer a couple, resulting in a ensuing paternity test. Melanie B gave birth to Angel Iris Murphy, on April 3, 2007. On 22 June 2007, People magazine reported the results of a court-ordered DNA te "The less said about the Beverly Hills Cop—'k the better."
Brown has revealed in an interview that Murphy has not sought a relationship with Angel:
"What kind of man is that?" - New! Magazine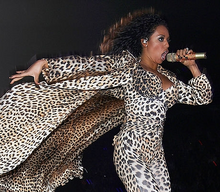 Return of the Spice Girls
[
]
Melanie Brown commented on the reunion beforehand:
"We are definitely going to be doing something together The Spice Girls then embarked on a worldwide tour. During this time, Melanie Brown had aleady came second on Dancing With The Stars.
Post-ROTSG
[
]
After finishing the Return of the Spice Girls tour, she went back to concentrating on entertainment: doing documentaries, presenting on various shows, doing interviews and promotions, and releasing her fitness DVD.
2010s
[
]
2012 Brief Spice Girls Reunion
[
]
In 2012 The Spice Girls reunited as a quintet one last time for the closing ceremonies of the 2012 Olympic Games. This was the last Spice Girls concert to feature Victoria Beckham and Mel C.
Spice Girls 20th Anniversary
[
]
In 2016 Mel B, Emma Bunton, and Geri Halliwell reunited as The Spice Girls for the 20th anniversary of "Wannabe". A new album and tour are expected in 2017. Victoria Beckham and Mel C opted to not take part in the reunion to focus on their own careers.
The X-Factor
[
]
Main Article: The X-Factor
Melanie B has been rumoured "I'd have been performing at Speakers Corner or somewhere if all of this hadn't happened" - If she wasn't in the Spice Girls
"Mandela was trying to pawn me off to date one of his cousins. I was trying to say to him I'm not really interested and he said, 'No, no, no. Come and meet him now'." - Speaking about the first encounter with Nelson Mandela.
"We were young crazy women and now we're young crazy mothers." - Having kids
"It's all about feeling confid to be a judge on British singing talent show The X-Factor for years. But in 2014 this became a reality when she signed the
"I want to make enough money to buy this club in Leeds from the owners who wouldn't let me in once because I was from a mixed-raced family." - On racism she experienced when younger
dent, listening to yourself, trusting yours deal with Simon Cowell for a reported six figure sallary she will be on the main judging pannel for the 11 series of the UK show alongside Louis Walsh, Cheryl Cole and Simon Cowell.
Gallery
[
]
Go to the gallery of Melanie Brown.
Memorable Quotes
[
]
"I want to make enough money to buy this club in Leeds from the owners who wouldn't let me in once because I was from a mixed-raced family."
"I'd have been performing at Speakers Corner or somewhere if all of this hadn't happened" - Melanie B on What if the Spice Girls never happened
External Links
[
]