Melanie Chisholm




Background information
Birth name
Melanie Jayne Chisholm
Also known as
Melanie C, Mel C, Sporty Spice, Sporty, Katrina Highkick
Born
12 January 1974 (age 47)


Whiston, Merseyside, England

Genre
Pop, pop/rock, britpop
Occupations
Singer, songwriter, businesswoman, actress
Instrument
Vocals
Years active
1994–present
Labels
Virgin Records


Red Girl Records

(current)
Associated acts
Spice Girls,

Bryan Adams

, Lisa "Left Eye" Lopes
Website
MelanieC.net
Melanie Chisholm (born 12 January 1974) is an English singer-songwriter, actress and businesswoman.
Biography
[
]
1970s
[
]
Early Life
[
]
Chisholm was born on January 12, 1974 at Whiston Hospital, Whiston, Merseyside. Raised in Liverpool, England, she attended Fairfield High School where she studied singing and dancing. Originally  Melanie C's parents met at one of Liverpool's most famous landmarks, The Cavern Club.
1980s
[
]
Further Education
[
]
After leaving school at age 15, Chisholm studied for a diploma course in dance, singing, drama and musical theatre at the Doreen Bird College of Performing Arts in Sidcup, Kent.
Her instructors remember her as "a delightful ballet dancer". She had strong technical skills and she was a hard working student which they added her voice was not exceptional, but gutsy. Overall she made excellent grades and was ready to start her dancing career when she finished school.
1990s
[
]
Spice Girls
[
]
Main Article: Touch
During college, she replied to an advert in The Stage by Bob and Chris Herbert, who were looking to form a new girl group Touch, later to become the Spice Girls. She left college just short of completing her three-year course and gained teaching qualifications in Tap and Modern Theatre Dance with the ISTD. She missed the second set of auditions, however Melanie C's mother called in to see if she could get another chance, but was offered a place if anything comes up.
Main Article: Spice Girls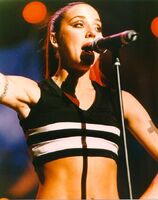 In 1994, she joined the Spice Girls (then still called Touch) after the original fifth Touch member, Lianne Morgan had to leave the group. In 1996 Chisholm, along with Victoria Adams, Melanie Brown, Emma Bunton, and Geri Halliwell. shot to fame with the release of Wannabe. The debut album, Spice, shot to number one all over the globe, including the U.S. Because Melanie C usually wore a tracksuit with her hair in a ponytail and sporting the attitude of a tomboy, she was called Sporty Spice. They went on to become one of the best-selling girl groups of all time, selling more than sixty million records worldwide.
Relationships
[
]
Chisholm has been linked with such stars as football player Jason McAteer, and singers Robbie Williams and Red Hot Chili Peppers frontman Anthony Kiedis. Their song Emit Remmus is about Kiedis' relationship with Chisholm.
In March 2007, she commented on the relationship she had Robbie Williams as doomed to failure as a reason of William's hard partying and busy lifestyle:
"It was nothing serious but we went on a couple of dates and it didn't really work out. It was 10 f--king years ago and I'm still talking about it! It was just a chemistry thing really. Sometimes there's not a major reason."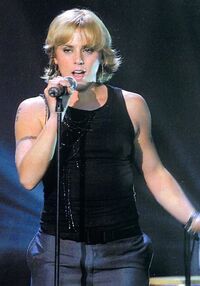 Going Solo
[
]
Melanie C got her first taste of solo work when she was featured in Bryan Adams single When You're Gone in 1999. She then signed on to Virgin Records and releases her debut album Northern Star and releases five singles from it, which garnered some success in Europe.
2000s
[
]
Thomas Starr
[
]
She has been in a relationship with property developer Thomas Starr since 2002. They currently share a £1 million country home at Catbrook, Monmouthshire. Thomas and her were kept from the public eye to reserve her privacy.
Reason
[
]
In 2003, Melanie Chisholm releases Reason, however it didn't do as well as expected, which were accompanied with a string of singles that came out as disappointments. She subsequently dropped Virgin Records.
Red Girl Records
[
]
Chisholm spent much of 2004 working on new material and setting up her own record company, Red Girl Records. Without major label backing, her activities are decided on and funded by herself, alongside her business partner and manager, Nancy Phillips.
In April 2005, Chisholm released her third album, Beautiful Intentions and released some singles from it, which proved to be a success in Europe.
In 2007, she released another album This Time and singles which also had the same success as the previous album, but promotion of the album wasn't as successful as it could be as it was overshadowed by the reunion of the Spice Girls.
Return of the Spice Girls
[
]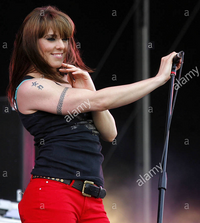 In 2007, she reunited with the Spice Girls to tour as a quintet for the last time and released a Greatest Hits collection. This would be the last Spice Girls tour to feature Victoria Beckham.
The singer is noted for her tattoos. Most of them are along eastern lines – among them a lotus flower, a phoenix and a dragon, and Tibetan symbols for love and happiness. She has 11 tattoos on her body with the last done in 2007 at Hanky Panky's in Amsterdam.
Love
[
]
In August 2008 it was announced that Chisholm and Starr were expecting their first child together:
"need to take some time off to be a mum but, before you know it, we'll be back"
On 22 February 2009, Chisholm gave birth to a baby girl. The baby weighed 8 lbs 3oz and was named Scarlet Starr. Chisholm is the last of the Spice Girls to become a mother.
Broadway
[
]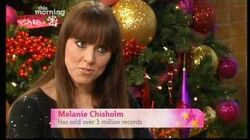 She revealed in an interview with Nylon Magazine in December 2009 that she is interested in pursuing a serious acting career in film. In 2009 after having her first child Chisholm signed to star in the starring role of Mrs Johnstone in the play Blood Brothers by Willy Russell in the London west end, she will continue appearing in the show until April/May 2010. She was nominated for the Best Actress in a Musical category at the 2010 Laurence Olivier Awards. In 2012 she played Mary Magdalene in a modern day version of Jesus Christ Superstar.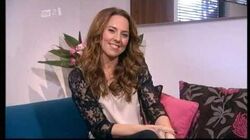 2010s
[
]
New Album
[
]
The Mirror reported in July 2009 that Melanie is to release a new album in 2010. But after months of works, Chisholm revealed that she will release 5th solo album in autumn 2011 with single in summer. She is working on album with producers/songwriters like Peter-John Vettese (Reason, The moment you believe), Adam Argyle (Understand, What if I stay, This time, Your Mistake, Don't let me go), Biffco (Goin' Down, Suddenly Monday, Living Without You, she worked with him during Spice Girls era, he is responsible also for almost all Spice Girls and Kylie Minogue hits) ex-Razorlight Andy Burrows, Jodie Harsh, Ina Wroldsen, Jez Ashurst, Duck Blackwell, Paddy Dalton and producers Quiz & Larossi. In 2012, Mel C performed with The Spice Girls as a quintet for the last time at closing ceremonies at the 2012 Olympics. This was the last Spice Girls concert to feature Victoria Beckham.
Gallery
[
]
Go to the gallery of Melanie Chisholm.
Memorable Quotes
[
]
"I'm the plain one in the group but I don't mind. Deep down I'm confident about who I am."
"Mad! Totally messed-up and mad. This had been the craziest most knackering year of our lives!" - Melanie C looking back on the Spice Girls days
External Links
[
]
Melanie Chisholm's Official Website
Melanie Chisholm's Official Facebook
Melanie Chisholm Official MySpace
Melanie Chisholm Official Twitter
Melanie Chisholm Official YouTube
Melanie Chisholm on Instagram
Melanie Chisholm on Insstar.com