Victoria Beckham




Background information
Birth name
Victoria Caroline Adams
Also known as
Posh Spice, Posh, Midnight Miss Suki
Born
17 April 1974 (age 47)
Origin
Goffs Oak, Hertfordshire
Genre
Pop, R&B
Occupations
Singer, songwriter, dancer, author, businesswoman, model, fashion designer, Actress
Years active
1994–present
Labels
Virgin (1996–2002)
19/

Telstar

(2002–2004)
Associated acts
Spice Girls
Website
http://www.victoriabeckham.com/
Victoria Beckham (née Adams; born 17 April 1974) is an English singer-songwriter, dancer, fashion designer, author, businesswoman, actress and model.
Biography
[
]
1970s
[
]
Early Life
Victoria Caroline Adams was born on April 17, 1974 to Anthony and Jacqueline Adams at the Alexandra Hospital in Harlow, Essex and raised in Goffs Oak, Hertfordshire. Beckham's father was an electronics engineer and the success of the family business meant a wealthy upbringing for Victoria and her siblings, Louise and Christian. Adams attended St. Mary's High School in Cheshunt. She was embarrassed by her family's wealth and often begged her father not to drop her off outside the school in their Rolls Royce.
"Although my parents were comfortable – we always had holidays and a nice car- we weren't rolling in it."
Victoria said that during her schooling days, she was a victim of bullying, having been made to feel like an outsider. She commented:
"Children were literally picking things up out of the puddles and throwing them at me. And I just stood there, on my own. No one was with me. I didn't have any friends."
Victoria's talent for drama arose while she was a pupil at Goaff's Poak Junior Middle Scholl, where she landed the leading role in The Pied Piper. She went on to St Mary's High in Cheshunt, a teacher commented:
"She was very conscientious, very quiet. Victoria didn't really stand out as an amazingly dynamic person. In fact, she was quite a joy to teach- she pays attention and worked hard."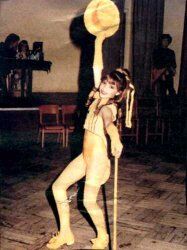 Dream
[
]
Adams was inspired by watching the musical Fame, from which that point she decided that she wanted to become famous, and to which got her parents to enroll her in Jason Theatre School. Also as a struggling teenager, due to many implications such as unpopularity and acne, she still fought on never letting anything get in her way of her dream.
"I think I must have been a kind of jealous, because Louise has loads of friends and boyfriends and was always very popular. At one point, I had hardly any friends at all, so I used to hang around with my sisters and her mates. It was probably really annoying for her to have me there all the time.
"Louise had was always to embarrassed to have a boyfriend. But I was a real Bros fan and had stars and stripes jeans like the ones they wore. I remember screaming and going mental at one of their concerts because I was convinced I was going to marry Matt Goss."
After graduating at 17-years-old, Victoria went to attend Laine Arts Theatre College in the Surrey town of Epsom, studying dance and modelling.
1990s
[
]
Spice Girls
[
]
Main Article: Spice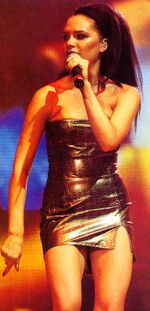 In 1996, the group's first single Wannabe, went to number one in the UK, in the United States and other 29 countries, anduld be followed by eight other successful number one singles from their albums, Spice, Spiceworld and Forever.Each member of the group received a nickname from the media. Victoria was called Posh Spice because of her refined attitude, form-fitting designer outfits, such as little black dresses, and her love of high-heeled footwear. The group was one of the most successful pop acts of the 1990s, selling over fifty-five million records worldwide.
Meeting Beckham

[

]
It was revealed that after a reporter had shown her a picture of David Beckham she didn't know who he was:
"I didn't really know who he was. I was never into football." - W Magazine (August 2007)
"I had no idea who he was, but I remember thinking one word: gorgeous." - The British's Sun Newspaper (March 1997)
Before meeting Victoria, David Beckham had made known of Victoria when he saw her in Spice Girls' music video Say You'll Be There. In March 1997, Victoria was to then meet David Beckham when she attended a Manchester United football/soccer match, at the request of meeting the Spice Girls. They had then begun to start dating which attracted a lot of media attention.
Posh and Becks
[
]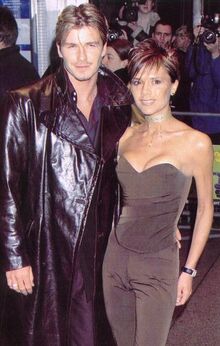 On January 24, 1998, David, 23, proposes to Victoria, 24, at Chesire's Rookery Hall Hotel. He proposes to her with a $65,000 (£43,000) three-plus-carat ring, which upon asking for her hand, she gives him an $80,000 (£53,000) three-tiered band of 96 diamonds engagement ring. During a Spiceworld tour concert promoting album Spiceworld on May 31, 1998, it was announed that she was that she was pregnant. On March 4, 1999, Victoria gives birth to 7-lb baby boy, Brooklyn Joseph, which David and her commented on commented hours after the birth to a group of reporters in Westminister, London:
"A baby is something we have always wanted." - Victoria
"Victoria is sitting up drinking champagne, and she has spoken to the other girls." - David
The name of Brooklyn was given as it was the New York borough in which Victoria found out that she was pregnant. Becoming Beckhams Victoria and David were married on July 4, 1999, at Bishop of Cork, William Paul Colton, at Luttrellstown Castle, Ireland, with the whole wedding costing at £424,000 ($800,000) inviting 236 guests. An exclusive coverage was sold to British Tabloid OK! at £980,000 ($1.5 Million). Victoria dresses in a one-of-a-kind Vera Wang dress and wearing a crown upon her head. Both Victoria and David were mounted on gold-plated, red-velvet thrones, while their four-month-old son Brooklyn acted as their ring bearer. After giving birth to Brooklyn just after four months, she fits into her corset at 18-inches, raising some issues and worries from the media.
Personal Problems

[

]
Victoria attends a London fashion week party hosted by Mick Jagger's daughter Jade. Wearing a silver chain-mail halter-top, she raised some attention and concerns from fellow guests, as she had jutting collarbone and ribs binging up some rumours of anorexia in the media. She responded by telling them it was due to the reason of having to nurse a child, being on a low-fat diet and doing "200 sit-ups before bed."
"You pick up magazines and you see how you are meant to look when you're a famous person. I mean, I was never anorexic, I was never bulimic, but I was probably very close to it." - Victoria Beckham on ABC's 20/20 (2007)
2000s

[

]
Going Solo

[

]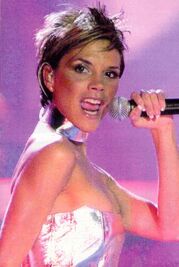 On August 14, 2000, Victoria makes her first solo debut when she is featured in the single Out Of Your Mind by Turesteppers and Dane Bowers. In November 2000, the Spice Girls release their third and last studio album before the split, Forever. Then the girls split to pursue solo careers. In September 2001, she releases her first autobiography Learning to Fly, which shoots up to the top of the best-seller charts in the UK. Victoria releases her first single, Not Such An Innocent Girl, from self-titled album, Victoria Beckham.
Death Threats

[

]
In January 2000, a tip-off to Scotland Yard detectives exposed a plot to kidnap Victoria and Brooklyn Beckham and hold them at a house in Hampstead, London. The family was then moved to a secret location, but no arrests were made. Later in March 2000, she received a death threat prior to performing at the Brit Awards with the Spice Girls, and in the show's rehearsal, a red laser light appeared on her chest and she was rushed off stage. After a fire door was found to be lodged open, it was thought that there had been an assassin there, and Beckham later revealed that she was terrified by the experience. In November 2002, five people were arrested after another plot for her kidnap was infiltrated by a tabloid newspaper. Videotapes were recorded showing that they were to ambush them outside their home and to sedate the family with chloroform, and have them pay a ransom of £5 million ($7.5 million). The Beckhams decided to increase security around their $9.5 million ($13 million) 24-acre Hertfordshire estate (also referred as "Beckingham Palace"). All charges were dropped after a witness was deemed unreliable.
Leaving Virgin

[

]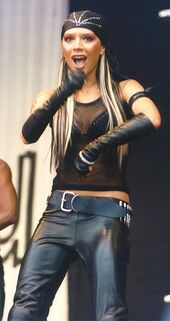 The second and last single, A Mind Of Its Own, is released from her album Victoria Beckham and made it to sixth of the UK Charts. Rumours were raised that she was to be dropped if she didn't make it into the Top 3. Victoria responded to this by saying:
"You know what newspapers are like, they just like to put all the negative stuff in, but as far as I'm concerned and the record company is concerned it is all great."
A third single, I Wish, was suppose to be released as it received promoted, but has never materialized. The reason was that she became pregnant with a second child so was to take time off at which point she left Virgin.
Telstar

[

]
In 2002, a deal is made with Simon Fuller with Telstar signing Victoria on to a £1.5 million contract. She begins the process of recording a pop album but the project is shelved as she was displeased with the tracks. Hip Hop producer Damon Dash of Roc-A-Fella Records is then placed into the project to give the album a R&B feel to it. First single is released as an A-Side Let Your Head Go/This Groove, and peaks at number three on the UK Singles Charts. They then set their eyes on breaking into the US.
Appearances from Victoria were made to increase her status in America as she made several appearances on US Television including 2003 MTV Movie Awards. She becomes the face of Rocawear, a Urban clothing line created by Jay-Z and Damon Dash, appearing up and down America in Billboards and ad campaign. Moreover, she became the British ambassador for Dolce and Gabbana. Despite all the publicity, the album is shelved due to a dispute between Simon Fuller and Damon Dash over the direction of Victoria's "Urban Sound", so her planned album Come Together and other remaining music-related plans were scrapped.
Tabloid Scandal

[

]
In April 2004, allegations surfaced that David Beckham had had a brief affair with a former personal assistant, Rebecca Loos. The affair had apparently taken place when David had moved to Madrid, although he denied all the allegations. They respond to all the bad media by posing for photos, while holding hands.
VB Rocks

[

]
Main Article: VB Rocks
Beckham designed a limited-edition fashion line for Rock & Republic called VB Rocks in November 2004, consisting mainly of jeans for the high end of the market, retailing at approximately $300 in the U.S. She had previously "hit it off instantly" with Rock & Republic designer, Michael Ball, in Los Angeles. He commented:
"She not only understands fashion and trends but has been a trend-setter and fashion icon for years."
Cruz

[

]
Main Article: Cruz Beckham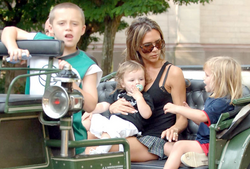 On February 20, 2005, their third son Cruz Beckham is born in Madrid, Spain, weighing at 7-lbs. After giving a caesarian, Victoria and David said they were "delighted".
Victoria Beckham: Coming to America

[

]
David signs a five-year deal with the Major League Football/Soccer's Los Angeles Galaxy. They move to America in which Victoria is in a NBC hour long special Victoria Beckham: Coming to America. The show sees her preparing her household in L.A. for the rest of the family.
Return of the Spice Girls

[

]

In 2007, The Spice Girls reunited to tour as a quintet for the last time. This would be the last Spice Girls tour to feature Victoria Beckham.
"We are going to celebrate the past, do a small tour and that will probably be it. Our priority is our families."
It was also reported that she turned down a appearance on Sex and the City movie as she was in rehearsals mode for the Spice Girls tour.
2010s
[
]
Fashion Icon
[
]
In 2009, Victoria Beckham appeared on some magazine covers solidifying her as a fashion icon. Also, she and Eva Longaria formed a partnership with LG phones. She is now signed as a designer for Range Rovers.
2010
[
]
Her status as a fashion designer highly rocketed after winning numerous awards for her new fashion line.
2012
[
]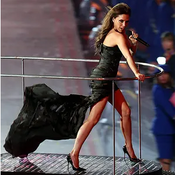 In 2012, Victoria Beckham performed with The Spice Girls as a quintet for the last time at the closing ceremonies for the 2012 Olympics. This was the last Spice Girls concert to feature her.
2017
[
]
Victoria Beckham has a fashion line with Target.
Sexual Miscounduct by Harry Beckham
[
]
Main Article: Harry Beckham
In 2017, Victoria Beckham made a statement to The Sun that she was groped and sexually abused by her brother in-law (David's younger brother) Harry Beckham in 2003 when he was 19 and she 29 years old. The incident occurred at a New Year's Eve party in Hertfordshire when her husband David wasn't around. Upon 20 woman accusers, Harry Beckham has since apologized on social media and hasn't been charged by the British courts.
Gallery
[
]
Go to the gallery of Victoria Beckham.
Memorable Quotes
[
]
"I'm never going to sing again, unless it was a chance to do something with the Spice Girls." - Britain's Sunday Mirror newspaper (2006)
"The truth is I see myself like one of the characters from the series 'Desperate Housewives' - the one who has the most kids."- Britain's Sunday Mirror newspaper
"I have to be done by three o'clock in the afternoon so I can go and get the kids again…they will always be our priority, both myself and David's." - KIIS-FM with Ryan Seacrest (2007)
External Links
[
]
Victoria Beckham's Official Website
Victoria Bekcham's Official Twitter
Victoria Bekcham's Official Facebook
Victoria Bekcham's Official Instagram
Victoria Bekcham on Insstar.com
Victoria Bekcham on Buzzcent.com
International Business Times on Victoria Beckham's Latest is a Nod to Star Trek Uniforms Jun 18, 2012